To build an audience, the internet is undoubtedly the perfect platform but it is not as easy. There are ways to make such things easy. If you are one such ambitious icon with deep hunger for success, then the key to your success is to know the right media to guide and assist you. If you are looking forward to making an attractive website for your suitable platform, then you are probably already aware of email marketing. Email marketing is crucial for any form of business to grow. And getting it done in the right way is unimaginably important. Convertkit is a highly recommended software because of its well put out services and features. So, before you get into operation, you should look into all options in your hand and then wisely choose the best email marketing software to take you one step ahead in your game.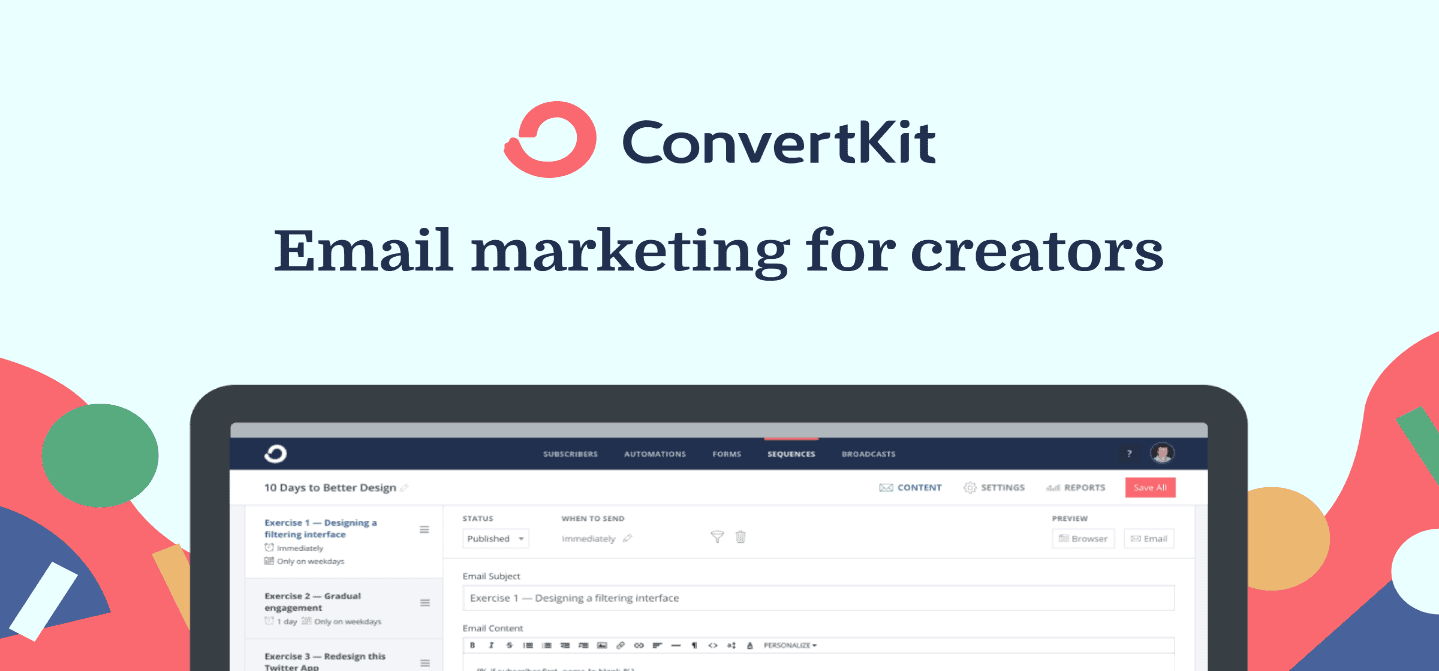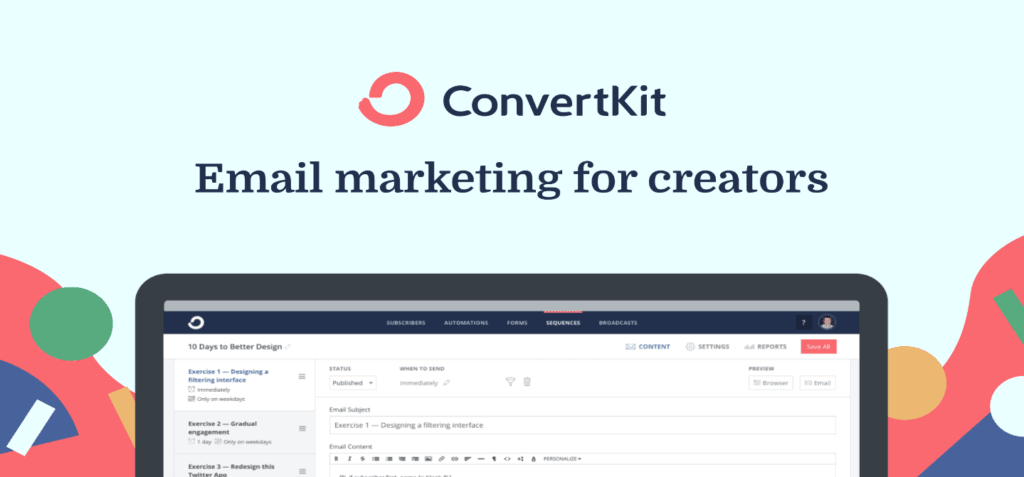 About Convertkit
When talking about email service providers, ConvertKit is a fully functional ESP created by Nathan Barry. It is ranked as one of the fastest-growing email marketing companies in the world. It's the ease of use, automation and other features that are highly regarded. It also offers flexible login and landing pages to help you get more email subscribers. Its market target is bloggers, podcasters and other businesses willing to build audiences. If you go to their website, you will find a detailed description of their forms of services, features, and price list and subscription policies. Although one should not judge a book by its cover, it is well organized and has an attractive website that allows you to create great broadcast emails, sequence emails, automation and autoresponder. 
The Pros of ConvertKit
Preferences may indeed vary but there are some features of this software that are widely agreed upon to be the best. Namely :
Flawless Visual Automation Editor.
Let's say the sending of an email is one step in your automation. Editing the email with other tools will take you out of the automation editor and onto a separate email editor tab. This can lead you to lose the sense of what you were doing.
For ConvertKit, it all takes place inside the automation editor itself. So, you can edit it online by clicking on an email. And in the same way, you can edit your forms too.
Easy E-mail segmentation.
Another useful function is the functionality ConvertKit uses in which conditional tags are used to segment individual emails. The syntax may look a little odd to non-techies and you may find it difficult to remember what to type when you go to use it.
You can select the Personalize menu in the editor toolbar to help with this, and press the menu element for the user tags. ConvertKit will then insert the correct template code snippet directly into your inbox. What you need to do is change your name, and update both branches of content.
Auto Resend Feature for emails that are Left Unread.
Each time you send out an email, a certain number of people do not open it. This might be because you could not have written a good headline, or at the moment, they were too busy to take a look.
ConvertKit has a cool feature where you can resend your broadcast to the first-time recipients that have not opened it.
There are a lot of other features that may become your personal favorite. I am triggering some enthusiasm in you to go out and try it out yourself to judge upon the numbers of other functionality that they offer.
Here are some of the functionalities that I believe Convertkit could be better:
Restricted Set of Advanced-Automation Actions.
The Cons of ConvertKit
You can't create the same form of complex automation that ActiveCampaign or Drip can generate. You won't even get advanced features like page monitoring and lead scoring in ConvertKit and miss list management behaviors such as unsubscribing users, so you can do daily hygiene on the list.
Not a Lot of Shape and Design Customization options.
I like the forms presented by ConvertKit. They are clean and pleasant but the editor for the form is very tight. There's not much you can change except the color. There is no way, for example, to adapt the font to any of the text.
Some companies need this so MailChimp is still popular. ConvertKit has a few email templates but it is very boring to use them. You're going to have to mess around with the HTML and CSS but not everyone wants to go through all that.
Before concluding, it is needful to the statistical representation of ConvertKit's popularity.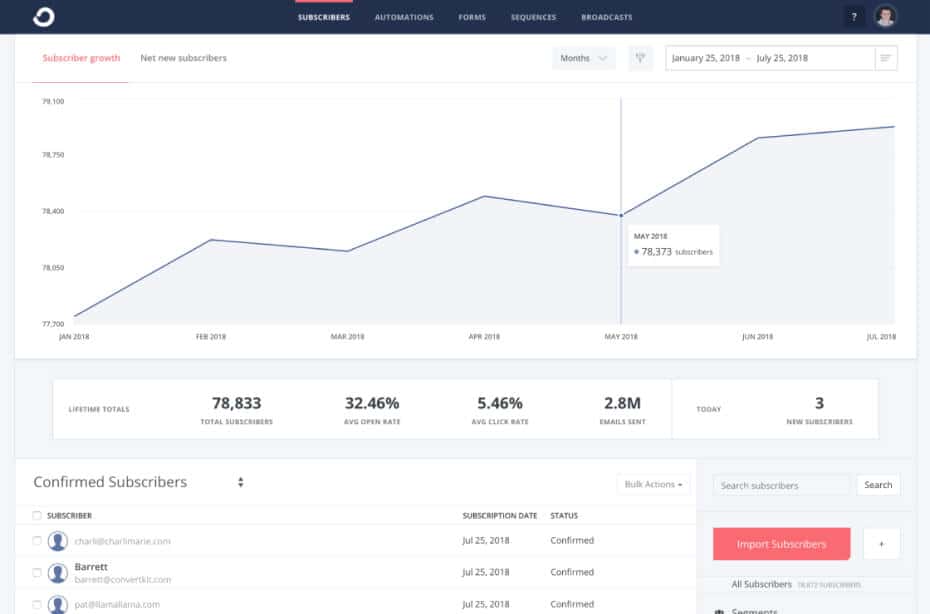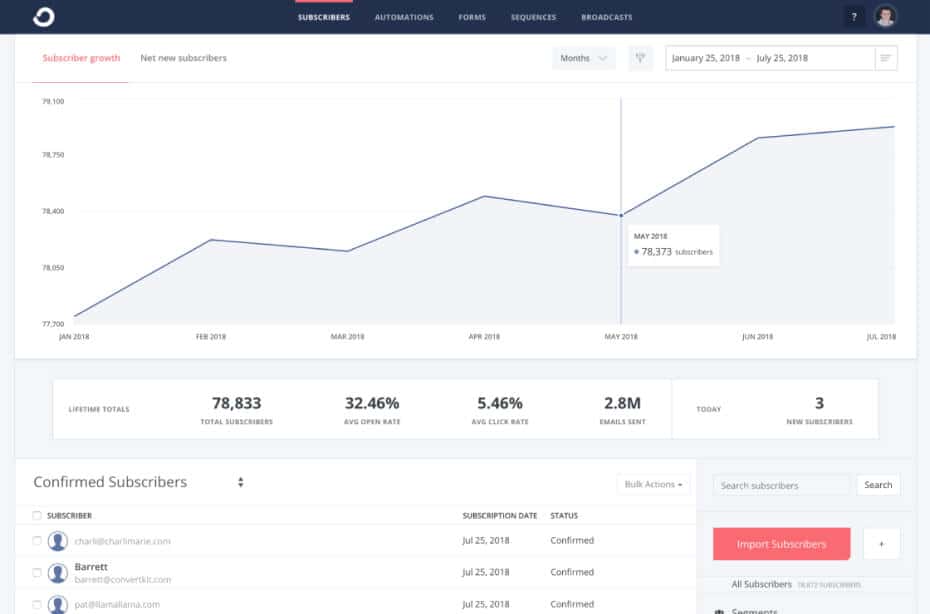 So, try it out and weigh up the pros over cons for yourself. You won't regret your decision!